The Official ABBA Fan Club
The Official British ABBA Fan Club was based in Highworth from the mid 1970s to the early 1980s, and at the height of the group's popularity, the club's mailbag exceeded 1000 letters a day. Whilst the address was published as Sheep Street, Highworth, in reality it was a post box number and the mail was collected daily from Highworth Post Office by 'Sue', who ran the club.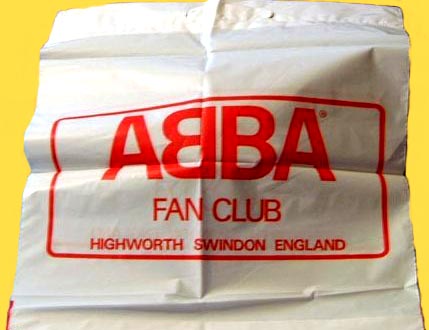 Members received a Welcome Pack, which included details about Agnetha, Bjorn, Benny and Ani-Frid, a unique badge together with a picture and a large poster; all for £1.00. By providing four stamped addressed envelopes to the club each year members were entitled to receive quarterly newsletters containing group updates, messages from the individual group members and the chance to purchase exclusive club merchandise such as scarves, T shirts, silver jewellery, badges, photographs and posters. Members were also privileged to have the opportunity of purchasing 1979 World Tour tickets through the club for two nights at Wembley Arena prior to tickets going on general release.
The club was run from a private house in Highworth and during very busy periods friends, together with their families, were often asked to help out by stuffing the 30,000+ newsletters into envelopes. Where possible, the merchandise was sourced, printed and made locally.
In its time the ABBA Fan Club was the largest and most successful fan club in the UK with in excess of 30,000 active members but when ABBA parted the club closed.
Please note that the historical society has no further information or archive material on Abba or the fan club.