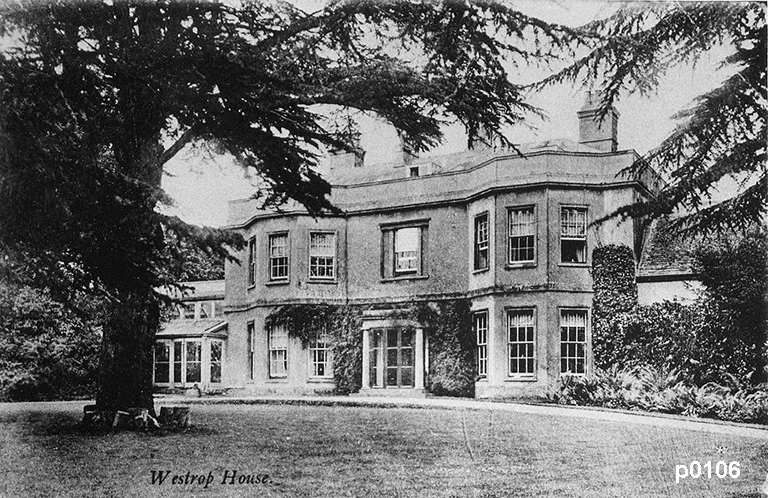 Westrop House is a beautiful house situated in Cricklade Road and built circa 1818 for Squire William Crowdy. In the 1980's work was going on in the hallway of the property. A decorator was pasting wallpaper when he looked up to see a lady in a long dress on the gallery. The experience is said to have shaken him so much that he went home for the rest of the day.
On another occasion a mother and her son, who were living there at the time, were preparing to go to bed when there was a knock on the door. On opening it they saw the figure of a man standing there which gradually faded away as they watched.
On a more humorous note Squire Crowdy also appears among the legends and stories connected to the house. Alfred Williams mentions him in his book 'Round and About the Upper Thames'. Obviously of an eccentric and troubled nature, Crowdy used to walk the streets of Highworth with a halter around his neck, with the rope trailing on the ground, apparently doing some form of penance for a misdemeanour known only to himself. After his death his spirit was said to have returned to walk the streets of the town with the halter around his neck. He was also said to appear holding the shafts of a coach, drawing it noisily up and down the yard and in front of the house. Wearied of these events the townspeople finally decided to lay the ghost. The Vicar, bailiff and jurymen were approached, and one night they set out for the squire's house, now locked up and deserted. The ritual proved difficult to carry out as the spirit was resentful and resisted the efforts of the parson to pacify it. At last it consented on the condition that it be allowed to enter a barrel of cider and remain there. All proceeded to the cellar where there was a large barrel full of apple juice. The bung was taken out, the spirit entered, and the hole was securely stopped up again. The local mason and his men were called out of their beds and the door of the cellar was bricked up, and that was the last that was ever seen or heard of the squire's ghost.